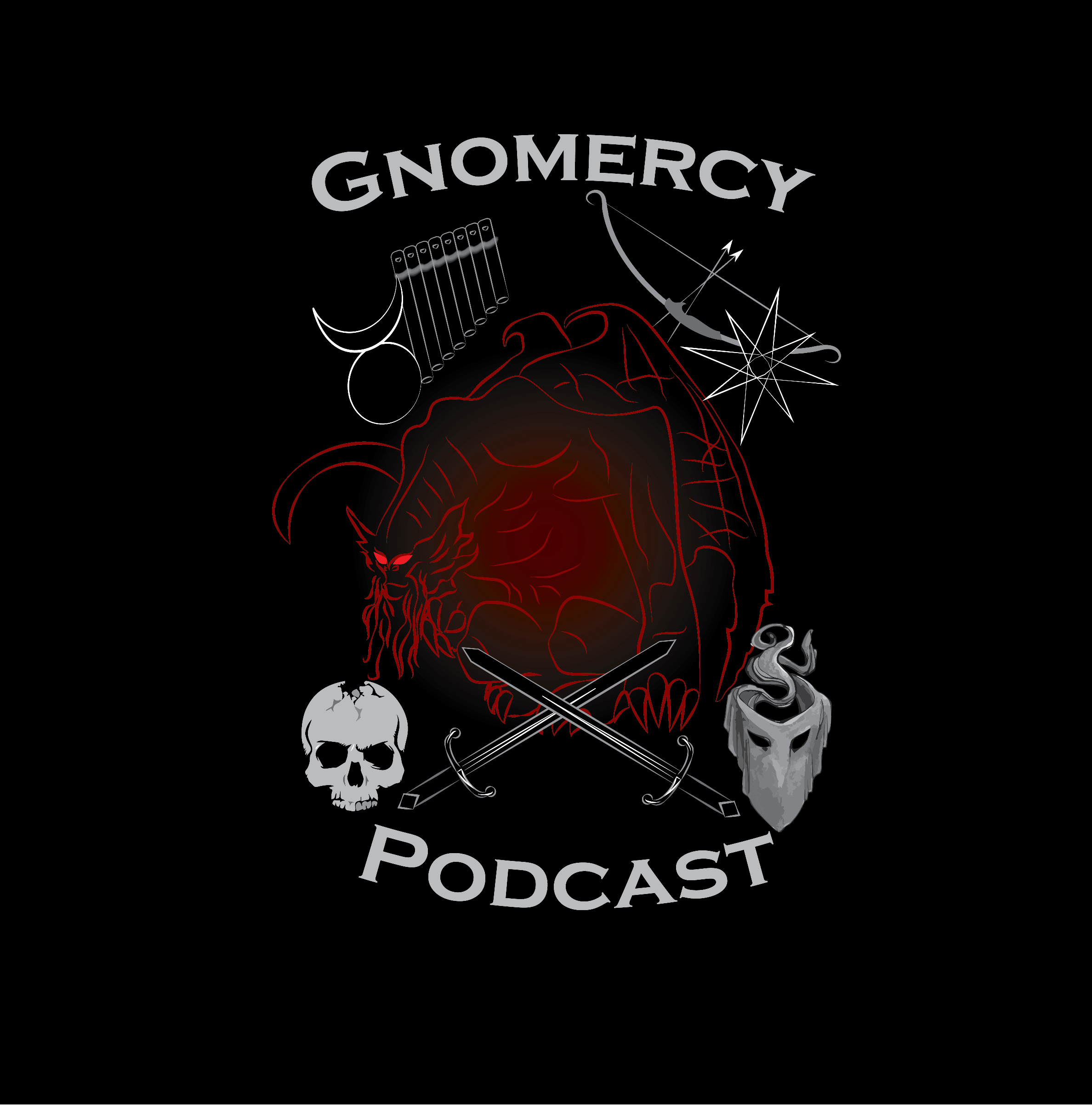 The Really Good Four attempt to sneak into the center of town to retrieve their things, as well as the ring of Gwynevere's dead husband. Gnomercy is a Dungeons and Dragons actual play podcast of four players and one Dungeon Master. The players have been lifelong friends. Comedy is mixed with drama as the crew tries to figure out how to work together.
Use this link to go to our website!
Use this link to follow us on Twitter!
Use this link to join our Discord!
Use this link to check out our Patreon!
Music
"Gnomercy Theme Song" by Clare.
"Gnomercy Recap Song" by Tyler.
Midnight Tale by Kevin MacLeod
Link: https://incompetech.filmmusic.io/song/4710-midnight-tale
License: http://creativecommons.org/licenses/by/4.0/


Modern Jazz Samba by Kevin MacLeod
Link: https://incompetech.filmmusic.io/song/4063-modern-jazz-samba
License: http://creativecommons.org/licenses/by/4.0/




Onion Capers by Kevin MacLeod
Link: https://incompetech.filmmusic.io/song/4679-onion-capers
License: http://creativecommons.org/licenses/by/4.0/




Danse Macabre by Kevin MacLeod
Link: https://incompetech.filmmusic.io/song/3601-danse-macabre
License: http://creativecommons.org/licenses/by/4.0/




Monkeys Spinning Monkeys by Kevin MacLeod
Link: https://incompetech.filmmusic.io/song/4071-monkeys-spinning-monkeys
License: http://creativecommons.org/licenses/by/4.0/




Mischief Maker by Kevin MacLeod
Link: https://incompetech.filmmusic.io/song/4059-mischief-maker
License: http://creativecommons.org/licenses/by/4.0/




Comedic Juggernaut by Kevin MacLeod
Link: https://incompetech.filmmusic.io/song/3527-comedic-juggernaut
License: http://creativecommons.org/licenses/by/4.0/




Chee Zee Caves V2 by Kevin MacLeod
Link: https://incompetech.filmmusic.io/song/3492-chee-zee-caves-v2
License: http://creativecommons.org/licenses/by/4.0/




Surf Shimmy by Kevin MacLeod
Link: https://incompetech.filmmusic.io/song/4448-surf-shimmy
License: http://creativecommons.org/licenses/by/4.0/




Frogs Legs Rag by Kevin MacLeod
Link: https://incompetech.filmmusic.io/song/5761-frogs-legs-rag
License: http://creativecommons.org/licenses/by/4.0/




Cold Funk by Kevin MacLeod
Link: https://incompetech.filmmusic.io/song/3522-cold-funk
License: http://creativecommons.org/licenses/by/4.0/




Tenebrous Brothers Carnival - Act One by Kevin MacLeod
Link: https://incompetech.filmmusic.io/song/4470-tenebrous-brothers-carnival---act-one
License: http://creativecommons.org/licenses/by/4.0/




Wagon Wheel by Kevin MacLeod
Link: https://incompetech.filmmusic.io/song/4601-wagon-wheel
License: http://creativecommons.org/licenses/by/4.0/




Eternal Terminal by Kevin MacLeod
Link: https://incompetech.filmmusic.io/song/3717-eternal-terminal
License: http://creativecommons.org/licenses/by/4.0/




Inexorable by Kevin MacLeod
Link: https://incompetech.filmmusic.io/song/3913-inexorable
License: http://creativecommons.org/licenses/by/4.0/




Moonlight Hall by Kevin MacLeod
Link: https://incompetech.filmmusic.io/song/4077-moonlight-hall
License: http://creativecommons.org/licenses/by/4.0/




Crisis by Kevin MacLeod
Link: https://incompetech.filmmusic.io/song/3561-crisis
License: http://creativecommons.org/licenses/by/4.0/




Leaving Home by Kevin MacLeod
Link: https://incompetech.filmmusic.io/song/4708-leaving-home
License: http://creativecommons.org/licenses/by/4.0/