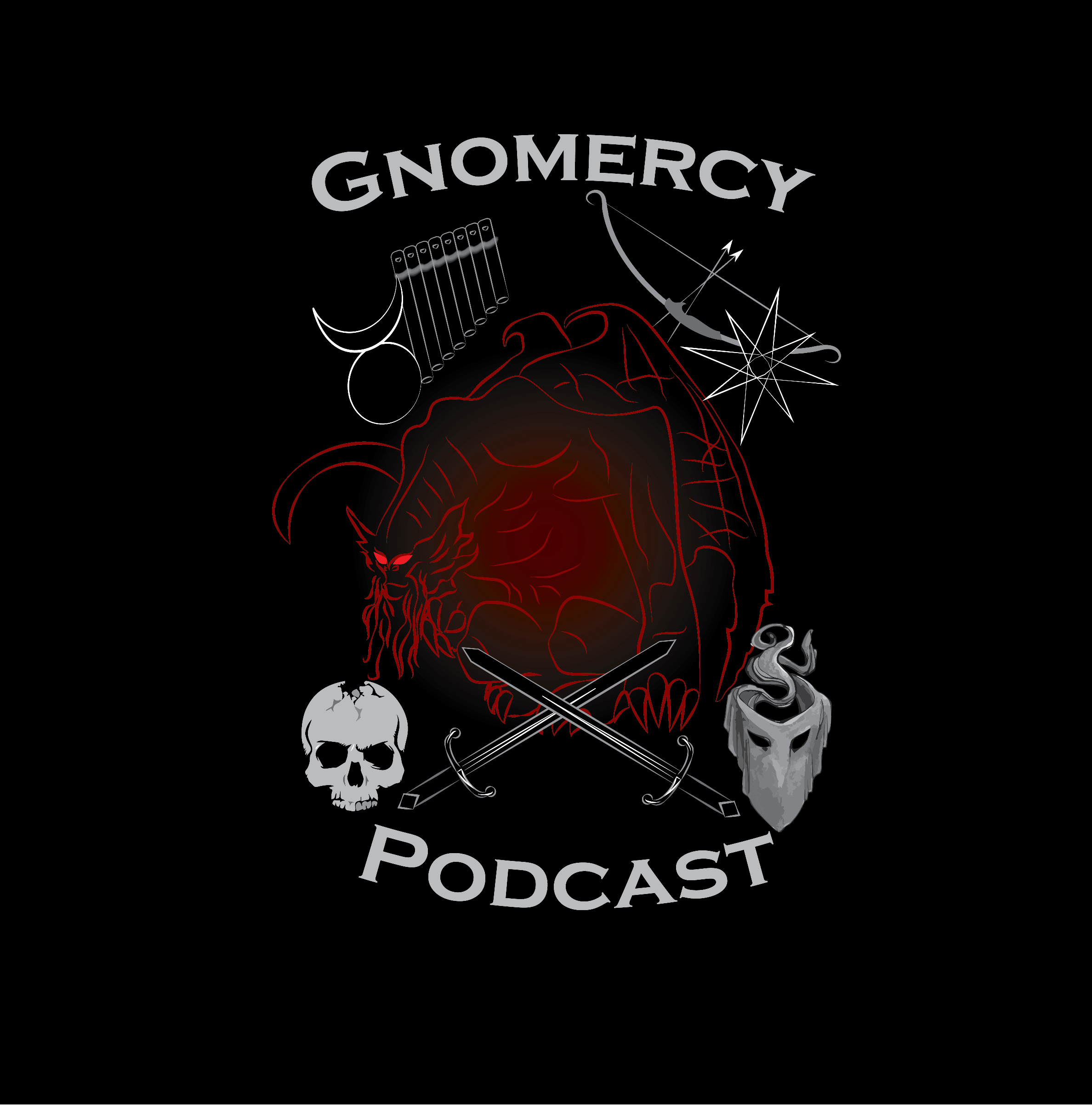 The Really Good Four confront Count von Accountant in an attempt to get back their items before they flee Devodem. Gnomercy is a Dungeons and Dragons actual play podcast of four players and one Dungeon Master. The players have been lifelong friends. Comedy is mixed with drama as the crew tries to figure out how to work together.
Use this link to go to our website!
Use this link to follow us on Twitter!
Use this link to join our Discord!
Use this link to check out our Patreon!
Music
"Gnomercy Theme Song" by Clare.
"Gnomercy Recap Song" by Tyler.
Pixelland by Kevin MacLeod
Link: https://incompetech.filmmusic.io/song/4222-pixelland
License: http://creativecommons.org/licenses/by/4.0/


One-eyed Maestro by Kevin MacLeod
Link: https://incompetech.filmmusic.io/song/4170-one-eyed-maestro
License: http://creativecommons.org/licenses/by/4.0/




Psychedelic Crater by Kevin MacLeod
Link: https://incompetech.filmmusic.io/song/4248-psychedelic-crater
License: http://creativecommons.org/licenses/by/4.0/




As Loud as Possible by Kevin MacLeod
Link: https://incompetech.filmmusic.io/song/4064-as-loud-as-possible
License: http://creativecommons.org/licenses/by/4.0/




Circus Of Freaks by Kevin MacLeod
Link: https://incompetech.filmmusic.io/song/5740-circus-of-freaks
License: http://creativecommons.org/licenses/by/4.0/




Night Break by Kevin MacLeod
Link: https://incompetech.filmmusic.io/song/4125-night-break
License: http://creativecommons.org/licenses/by/4.0/




Killers by Kevin MacLeod
Link: https://incompetech.filmmusic.io/song/3952-killers
License: http://creativecommons.org/licenses/by/4.0/




Local Forecast - Slower by Kevin MacLeod
Link: https://incompetech.filmmusic.io/song/3988-local-forecast---slower
License: http://creativecommons.org/licenses/by/4.0/




Constancy Part One by Kevin MacLeod
Link: https://incompetech.filmmusic.io/song/3542-constancy-part-one
License: http://creativecommons.org/licenses/by/4.0/




Lively Lumpsucker by Kevin MacLeod
Link: https://incompetech.filmmusic.io/song/3984-lively-lumpsucker
License: http://creativecommons.org/licenses/by/4.0/




Malicious by Kevin MacLeod
Link: https://incompetech.filmmusic.io/song/4014-malicious
License: http://creativecommons.org/licenses/by/4.0/




Dama-May by Kevin MacLeod
Link: https://incompetech.filmmusic.io/song/3580-dama-may
License: http://creativecommons.org/licenses/by/4.0/




Industrial Revolution by Kevin MacLeod
Link: https://incompetech.filmmusic.io/song/3911-industrial-revolution
License: http://creativecommons.org/licenses/by/4.0/




Enter the Maze by Kevin MacLeod
Link: https://incompetech.filmmusic.io/song/3712-enter-the-maze
License: http://creativecommons.org/licenses/by/4.0/




Fluffing a Duck by Kevin MacLeod
Link: https://incompetech.filmmusic.io/song/3766-fluffing-a-duck
License: http://creativecommons.org/licenses/by/4.0/




Neo Western by Kevin MacLeod
Link: https://incompetech.filmmusic.io/song/4114-neo-western
License: http://creativecommons.org/licenses/by/4.0/




Clash Defiant by Kevin MacLeod
Link: https://incompetech.filmmusic.io/song/3510-clash-defiant
License: http://creativecommons.org/licenses/by/4.0/




Monkoto by Kevin MacLeod
Link: https://incompetech.filmmusic.io/song/4072-monkoto
License: http://creativecommons.org/licenses/by/4.0/




Metaphysik by Kevin MacLeod
Link: https://incompetech.filmmusic.io/song/4043-metaphysik
License: http://creativecommons.org/licenses/by/4.0/




The Complex by Kevin MacLeod
Link: https://incompetech.filmmusic.io/song/4488-the-complex
License: http://creativecommons.org/licenses/by/4.0/




Stay The Course by Kevin MacLeod
Link: https://incompetech.filmmusic.io/song/5048-stay-the-course
License: http://creativecommons.org/licenses/by/4.0/




Moonlight Hall by Kevin MacLeod
Link: https://incompetech.filmmusic.io/song/4077-moonlight-hall
License: http://creativecommons.org/licenses/by/4.0/




Hall of the Mountain King by Kevin MacLeod
Link: https://incompetech.filmmusic.io/song/3845-hall-of-the-mountain-king
License: http://creativecommons.org/licenses/by/4.0/